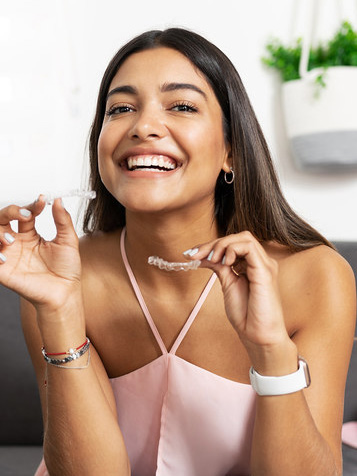 New Patient Appointment
Welcome to Wells Orthodontics! We are excited to meet you and look forward to talking with you about your smile potential!
Upon your arrival, you will be greeted by one of our scheduling coordinators and given a brief tour of our office. Our new patient coordinator will escort you to the new patient examination room, where she will take X-rays and a series of photographs that will be digitally imported into our state-of-the-art imaging system.
Dr. Wells will conduct an examination and make treatment recommendations, including the orthodontic issues, the type of treatment required, the estimated length of treatment, and when treatment should begin.
We strive to make the most of your valuable time. Therefore, once the initial exam has been completed, our treatment coordinator will discuss the financial options available to you and help you determine the option that best suits your needs.
Wells Orthodontics sets aside one hour for this complimentary exam, and you will leave with a complete understanding of the possibilities available in the exciting world of orthodontics!
Observation Appointment
If, after the new patient exam, Dr. Wells does not feel that treatment is required at this time, a future observation appointment will be scheduled. This provides us with an opportunity to monitor dental development and determine the ideal time to begin orthodontic treatment.
Regular Appointments
The visit when you get your appliances (braces, expanders, etc.) usually takes from one to two hours. You will then see us at regular intervals 8 to 12 weeks apart for an adjustment, each of which takes 20 to 40 minutes.
If you cannot keep an appointment, please notify us as soon as possible.
Please help us be prepared for your first appointment by downloading, printing, and filling out our patient forms.
Our Convenient Online Services
We know how busy you are. That's why we're committed to providing you superior, leading-edge service. With our secure online service you will be able to:
Sign up for email and/or text appointment reminders
View your appointment and account information at any time
Check your payment history and see current charges
Print out flex spending reimbursement and tax receipts